The Following Is An Unpaid Political Message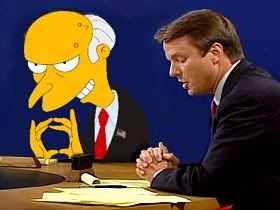 I saw this over at
Absinthe Knits
, and while she may have other outlets for her political rants, I am surrounded by like-minded lefties who are all bombarded with the same
moveon.org
emails I am, so here's my chance to spread the word. For me, the personal is political--they are talking about rolling back MY civil rights (as a lesbian who lives in Massachusetts, I will LOSE the
right to marry
if the current administration gets its way, though I am not sure that my partner of 12 years and I will use that right, I believe strongly that we should have it). So it's part of the package--friends don't let friends vote Republican.
Since I'm talking about politics, there's a rather urgent situation going on at the moment. The
Sinclair Media Group
, with arch-conservative owners, is forcing its ABC affiliates to air a highly partisan anti-Kerry movie (documentary is not really an accurate term) called
Stolen Honor
, right before the election. This is the same group that
refused to air the Nightline where they aired the names and photos of all the fallen soldiers in Iraq
, saying it would be "inflammatory" (yes, that's becuase it's TRUE, and since when is honoring and memorializing those who died in battle "inflammatory?").
Here
is a story from AP about the current situtation.
I wrote the following email to
Sinclair
and my cable company, Comcast. I found the email for the media contact for my area through very nifty googling, if I do say so myself; the Comcast website makes it very difficult to find anything. If you're local, you can email Jennifer Khoury (Jennifer_Khoury (at) cable.comcast.com --I'll spare her from the spambots) at Comcast, like I did. Here is my email, do something like it yourself if you're so inclined:

If you are going to air Stolen Honor, please also air Fahrenheit 9/11. I don't pay my cable company to receive Republican propaganda. If you are going to show the extreme right-wing view of Kerry, let's also see a different perspective on Bush. I expect that Moore would make the film available for such a viewing, or if it is not available, I expect you could get the rights to show "There's Something About W" http://www.somethingaboutw.org/ or "Uncovered: The War on Iraq" http://www.truthuncovered.com/ . If you think Bush truly is the right choice, then equal time for the other side should not be something that scares your organization.


I request that Comcast, my cable company, whom I have cc:'d on this email, drop my local ABC affiliate, WGGB-40. There is an ABC affiliate in Hartford, CT, only 30 miles south, WTNH, that would do just fine in serving its viewers, not the wealthy and powerful who are trying to control what we see.


Sincerely,
Cate, Florence, MA

I also emailed
Michael Moore's website
to ask him to make
Fahrenheit 9/11
available to Sinclair to air as equal time.
Please write your own letter to Sinclair at comments@sbgi.net, and if your local station is owned by them (and therefore, you will be affected--find out here), please call and complain. They will tell you to contact Sinclair directly, but I think it's important that we let our local stations know that we, right here, in the community they purport to serve, are angry about this. When I spoke to the person at my station, she said she agreed with me personally, but that they had no control over Sinclair's decisions. They'll tell you to call 410-568-1780, but do call locally as well; we need to ring their phones off the hook.


Just one more thought. This is not an issue of free speech. I think it's fine to air this kind of film, even though I think it's terribly distorted. Check out the clip here to see how dishonest it is: they interview this bearded hippie who looks a LITTLE like Kerry, without making clear that it's NOT Kerry, but just a member of a group that they claim Kerry was linked to. I have no doubt that is intentional. What I think is wrong is the ONE-SIDED hijacking of public airwaves to air only one side of an issue. These are not cable stations like Sundance or MTV or pay-per-view; this is ABC, one of the core broadcast stations that reaches a mass audience. By unilaterally pre-empting the Nightline segment, they have already shown themselves to
be devoid of respect for journalism, but this is as much of an outrage. To learn more, and to follow the story through the blog, check out http://www.stopsinclair.org/ .
I'm mamacate, and I approved this message.

Edited to add that there must be something in the air. Other knitbloggers are talking politics today: Jenifer is blogging about politics, and she linked me to Creazativity who's doing some pretty sound thinking herself. Nice to know that I'm in good company!