We're off to walk in the Walk Toward A Cure for Breast Cancer. It should be a nice day, if cold.
I'm not a big baseball fan, but how can you keep from saying
GOOOOO SOX!
V. exciting. The kids have been really into reading a kids book we have that is based on the Mary Chapin Carpenter song "Halley Came to Jackson" about Halley's comet. We were discussing letting the kids watch part of the series, and I realized that if they win, it will have been longer than Halley's comet. Worth a little staying up late, I think. We have a softball field at the end of our street; a good one with lights and everything, so the serious teams play there; and they've enjoyed watching the games this summer. So they saw a few minutes of the game last night.
In knitting news, I'm working on a kids' Noro cardigan. I've had a few problems with the pattern, which came as a kit from a local (but not to me) yarn store. The designer has been incredibly responsive, writing back to me unbelievably fast when I had problems getting the recommended gauge and then to answer another question. Up until now the problems have been primarily mine (though I do think 5 sts/in is not an ideal gauge for Kureyon, although it is recommended by the manufacturer--perhaps my colorway is spun unusually thick). But now I'm almost certain that there's a problem with the pattern, so the thing is on hold so that when I go to the frog pond, it's only a matter of 10 rows or so, not half a sweater! I'm going to wait to hear back from the designer before I frog though. I might be able to frog from the other direction (there's a provisional cast-on right below the problem), but I don't have a lot of experience with knitting down off provisional cast-ons, so I'm going to try it before I knit a lot more.
Anyway, blah-be-di-blah, here is a photo, even though I've already wasted a thousand words, lol.
And here is a bigger picture of the colorway.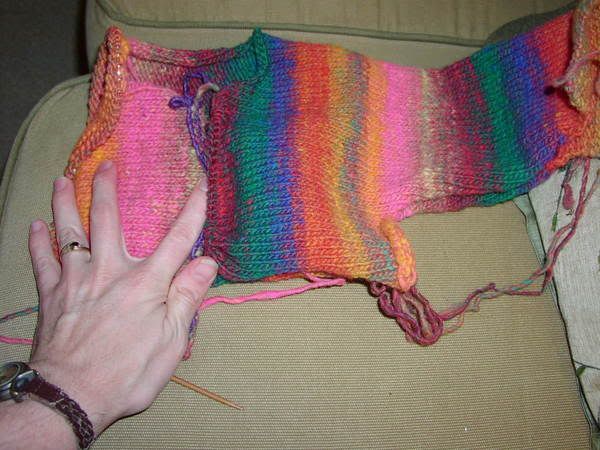 I was a bit surprised when it arrived. It's Kureyon #131, and from the online photo, I thought it was going to be mostly pinks with a bit of jewel-toned green and red. When it arrived I realized that it is mostly orange, with primary tones and then pink thrown in. I wasn't so sure I liked it, but it's growing on me. In my head, I'm calling it the "Albuquerque" colorway: it reminds me of the desert. I've also decided that this will be for Henry. In the world of insanely-gendered toddler clothing, there is NO such thing as pink boy's clothing. So I figure this sweater can be a totally non-girly item that has pink in it. I know I think too much about this stuff.
Here's a pic of the kids having "dinner" with their babies.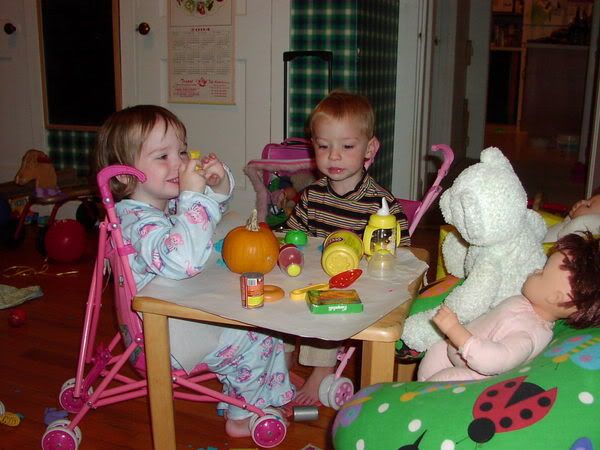 For more photos, specifically a photo-essay about the kids first haircut (!), see my new kids' blog. I'm linking from here to there, but not back, because I'm sending the other link to my parents, and well, see the posts below to know why I set limits with them, LOL. Anyway, http://mamacatekids.blogspot.com