Mothers make plans. Toddlers laugh at plans.
As mothers, we learn to roll with the punches, we develop the ability to be flexible and to understand kids' changing needs.
BUT WE STILL MAKE IT TO THE YARN STORE!
Shedir is blocking.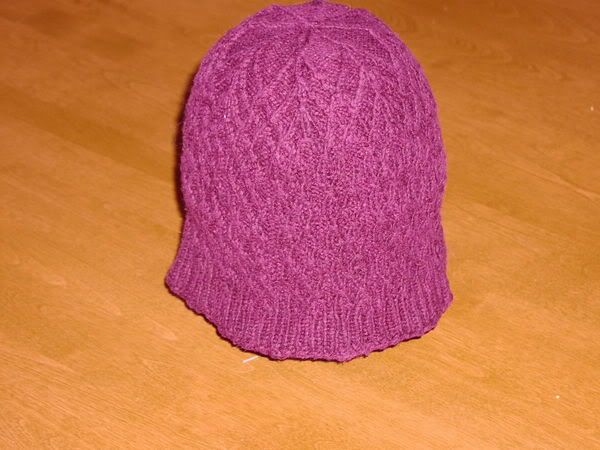 I'm going to miss this project. I think I might need an Aran sweater on my project list in the near future.
It was definitely an adjustment. Heck, lately, with all the garter stitch I've been doing, I've barely been purling much less doing single-stitch cables on #3 needles with a chart. But I just finished it and I kinda miss it. I need mindless knitting, but I think I need to have a "thinker" project going as well.
Speaking of mindless knitting, I've been working on
Eloise
here and there as well.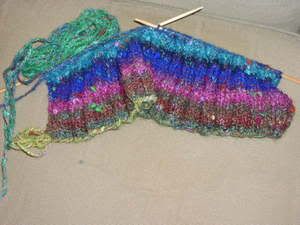 You know, I can see why
Allison
had
trouble getting used to her Blossom colorway
when she first started knitting with it. She had a different colorway, but you know, this yarn is kind of...um...
garish
. I hate to say it, but, well...yeah. But I think as I get over the initial shock, I am going to like it. I don't hate it, but it's a bit intense. Hopefully when I wear it others will not have to go through the same process of initial shock, grin.
Oh yeah, the plans. We were reading a book about butterflies this morning, and the kids suddenly remembered the local
Butterfly Museum
. We hadn't been there since last winter, but suddenly they were all about going. I said it meant no singing meeting, but they were cool with that. I was shocked. I was a little sorry to not have the chance to commiserate with the other moms about the election--I learned about Kerry's concession when I left last week. But I was relieved that we wouldn't be sharing the tail-end of this cold with a passel of frail old people who are probably being denied access to flu shots because the government isn't rationing supplies (see above, sigh).
So I told them we'd go downtown to do errands first, then go to the Butterfly Museum. All good. We dropped my newish closed-back clogs that already blew out the side at the shoe repair place, had lunch at the crepe place, and hit the yarn store. This involved a walk in the cold around a very long block--probably the better part of a mile round-trip. Much of it with Eleanor on my shoulders. I got my workout for the day. It was fun, though. More downtown time for us, methinks. My kids are going to be cool Noho bohos in no time.
Once again, I found myself having to drag them out of the yarn store. Someone at the store pointed this out to me--why are you trying to convince your kids to leave a yarn store? The reason is that if I sat down and knitted, particularly Shedir, which actually takes more than 5% of my attention, there would be a yarn-throwing party in about 30 seconds. And not in a good way.
I imagined that perhaps the kids might sleep in the car, because last winter they used to in the 15-minute highway trip to South Deerfield, giving me a good hour of knitting and NPR time parked at our destination while they napped in their carseats. But they're almost a year older and nope, no nap. Oh, and I forgot to mention that somewhere along the way there they remembered that "the trains and Santa" were right near the Butterfly Museum. Translation:
Yankee Candle.
Forget butterflies. We're talking Santa,
vaguely disturbing animatronics
,
model trains, and 25-foot rotating Christmas trees
. They loved it. I had a decent time and, more importantly, picked up chocolate covered oreos and pretzels at their chocolate store.
Politically correct carrots were not procured. Nor were highly politically incorrect diapering items. Eleanor made do with regular gender-neutral disposable diapers, not gender-neutral fuzzi bunz because mama has not caught up on laundry. I will skip out of work early on Friday to get carrots and princess butt-gear. That means kid-free shopping, which is always expedient, though often expensive as I buy everything I might possibly want, thinking I will never see the inside of a store without the help of two fractious toddlers again.
All good.
So now I have 90% of a ball of Rowan Calmer. The kids really like wearing gloves, as opposed to mittens, and I think the Calmer would be perfect for making them gloves. Does anyone know of a source for a pattern for LITTLE kid (like size 2-4) gloves? I had no luck searching online, and of course none of my books have anything. I'm chicken to design anything more complex than a top-down raglan, so this would probably not be the place to start.
I'm hoping to take a better shot of the hat during the 3 hours of sunlight we have here in New England's November, but I'm thinking an express package tomorrow is not entirely unrealistic. Hope she likes it...