I have finished
Nick's Kureyon Cardi
, blocked, buttoned, and woven in (I'm such a slacker about putting on the final touches). And lo and behold, he actually wore it. He actually likes it! Since I have now had the majority of the items I have made for them shrugged off and rejected, this is a small miracle.
So it seemed like a small thing to take a picture of the final product, being modeled by my son.
Uh, yeah, he's two. And my camera has a 1-second delay.
I decided to animate the scene for you: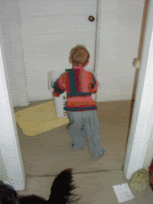 That blurry one in the middle there, that's the one that started out "aw, what a great smile....whoa, where are you GOING???" Oh, to see the dog. Gotcha. (If it's not animating, try reloading--I set it to only go "around" once.)
The sleeves are a little short, but I think I can reblock and get those into better shape. For longer-term wear (since DS seems to only grow UP and never get a hair past skinny), any advice for lengthening sleeves, both from the cast on and the bound off edge since this was knitted side-to-side? I lent out my copy of
The Knit Stitch,
which I think has information on this.
As for other projects, I am trucking along on
Eloise
, but am still not sure how I feel about her. The colors are awfully loud; I just don't know if I'm going to want to wear it when I'm done.
I'm most of the way through the back.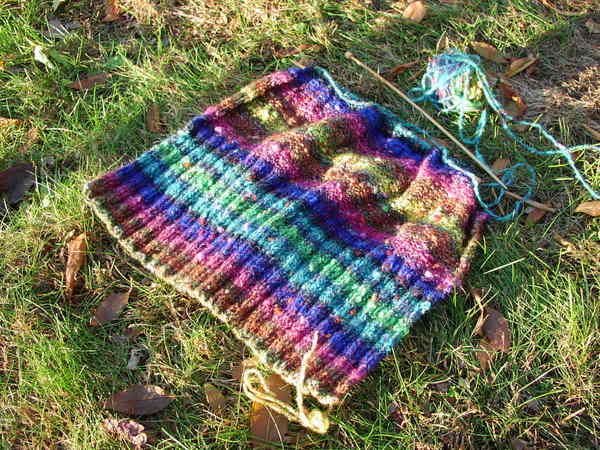 My inability to fully commit to Eloise is causing me to get into a ridiculous frenzy of project starting. The only thing that makes me feel better is that they're all stash-busters. Here's a round-up: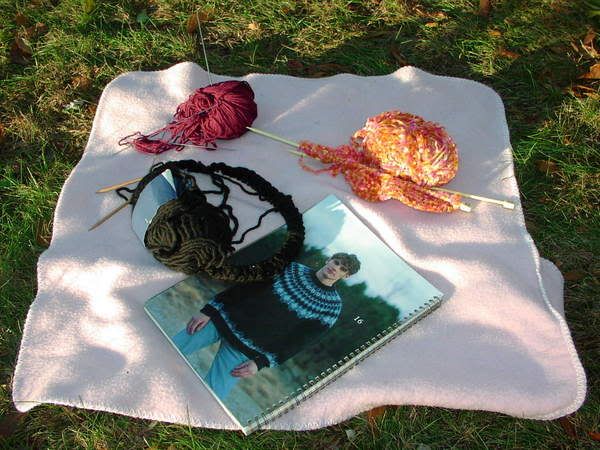 At the top-left is a teeny tiny glove made with teeny tiny size 0 DPNs. It's still in the floppy stage of DPN knitting (I think I'm on all of row 3, and with 42 stitches on the thing I'm not exactly impressed). I'm using the 90% of a ball of Rowan Calmer that I have left over from Shedir.
Next, going clockwise, is sweater for Eleanor that I think I will call "Pinkola." I got this yarn on way-big closeout from Webs, I think a bag of it was $15 or something. It's a super-chunky chenille that I'm knitting at 3 sts/in. It's going to be a cardi for her, but since I'm already annoyed at the garish colors, big gauge, and non-wooly hand of Eloise, Pinkola is not exactly providing the balm I need.
Finally, at the bottom is a photo and the first two rows of a Lopi sweater for my step BIL. Rhys' siblings, step-siblings and spouses all draw names so that we don't all spend a bazillion dollars and hours shopping for everyone in the family. Three years ago I gave a lopi sweater, and I'm doing it again. This time I'm really staying in the dollar limit, though, because this yarn is from my stash. The black icelandic is from an ill-conceived project (hey, I need a black sweater--that will be cool for going out dancing--not at 3 sts/in you don't!) I started FIFTEEN YEARS AGO. You probably guessed that when I mentioned going out dancing, huh? Yeah, we were going out dancing to "Pump Up the Jam."
I even have proof. Check out the receipt, which was actually still in the bag. 1989. No lie.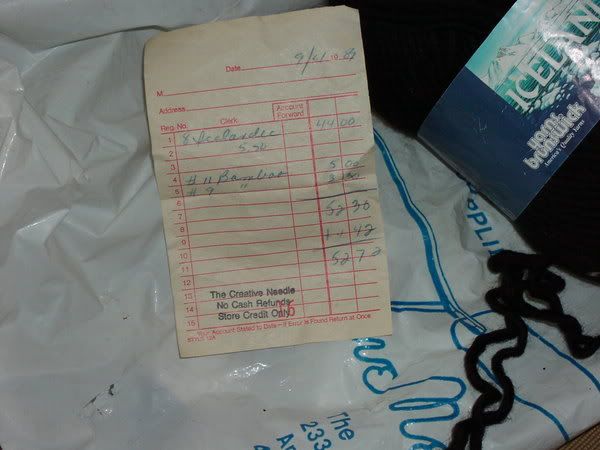 Sheesh. Anyway,
Froggy
, you will be proud of me. Even though I hate to rip, I will frog that stupid thing and make it into a lovely warm sweater for step-BIL, who is a carpenter and works outside for much of the winter. I do think he'll like it.