Done! Thank goodness mamarhys pointed out to me that today is Veteran's Day, and therefore the post office is closed. I would have been mighty annoyed if I had gone all the way down only to find that out at the door.
Instead, I sent it overnight via UPS. Hopefully it will be there tomorrow morning. I tried to burn some Audible.com CDs for her to include with it, but it took forever (who knew a book would take 10 CDs!), so I will send those with Nana. But I'm so glad I could send the hat right away. I want her to have it when she goes for the next treatment on Monday.
I went outside my office to take pictures of the hat in this tiny garden outside the administration building where I work. I know I looked a little weird. Of course, I had to have people I knew walk by, including the associate dean of faculty, who didn't make eye contact, lol. Ah well. If they haven't figured out that I'm odd in the 6 years I've worked there, they haven't been paying attention.
I give you...the FO: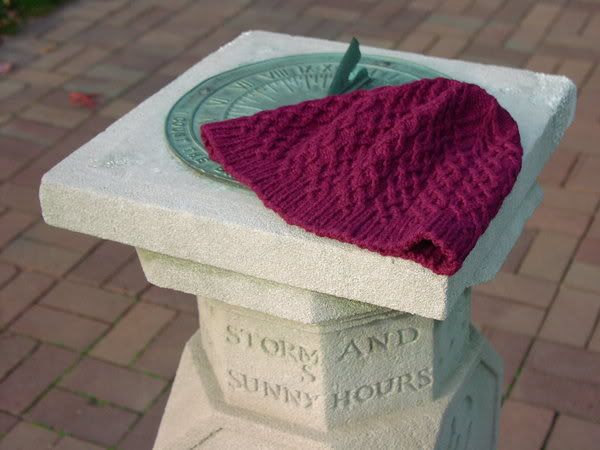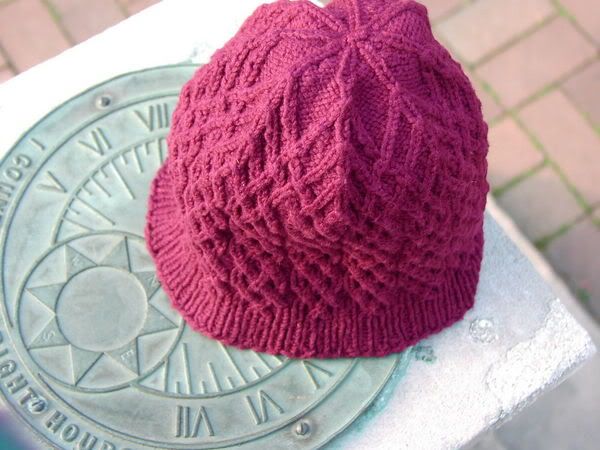 Knitting night at Webs tonight was fun. I forced my friend the new knitter to swatch for her hat, especially since she's trying to do it in bulky yarn at 5 sts/in (I do think it will work with this pattern, a knit-flat garter stitch hat with a boxy look that will probably benefit from the stiffness of the fabric. It helps that the yarn is rather softly spun so it compacts pretty well). She bore up well under pressure.
I went a little hog-wild with books. I got Ann Budd's
Handy Book of Knitting Patterns
, as suggested in the comments, and cast on for the kids' gloves with my leftover Calmer and size ZERO DPNs. They're not bad once you get going, but those first few rows are pretty darn fiddly. That was a planned purchase.
Then I had to get Perri Klass' new book of essays on knitting,
Two Sweaters for My Father.
NB: While linking to this I found out this book is so new its release date isn't for another 2 weeks, LOL.
Then I was browsing though
Knitting in the Old Way,
and I know I'll have to buy it if I do the Master Knitter Program (the one at Webs), so I figured it would be an interesting read (and it is so far). It's not a cheap book.
And finally, to further work out my credit card, I got the only one of Barbara G. Walker's
Treasuries of Knitting Patterns they had, which was book 3.
Ahh. Must calm down with the book buying.
Working on Eloise and not feeling hugely enthusiastic. I think I'll enjoy wearing it, but the yarn feels a little synthetic, even though it only has a tiny bit of nylon as a binder. It's just not rocking my world as much as I expected. So it's that, the gloves, a Xmas scarf, and a few back-burner projects. I have barely spun a thing in the last month or so, so maybe I'll get back to that. I do have an Aran sweater lined up if I ever get to finishing the gray shetland fleece I bought from my spinning teacher. It has a lot of second cuts in it (she sheared him herself), so it's a bit of a PITA. But I'm itching for more cables.
Anyhoo. I'm tired and babbling and the point was just to put those pics up. Nighty-night.