I never said this was just a knitting blog. But I like to talk about knitting as much or more than I like to talk about politics, infertility, parenting, and life. And I like to read about other people's knitting too, so here we are. Anyway, here is some knitting content. This is actually the post I started on Sunday night, which was eaten alive by blogger. So this time, I'm actually composing in Word.
First, let's talk about SEX, baby. Yes, that's right, Stash Enhancement EXpeditions! What did you think I meant?
Last Wednesday, this arrived in my mailbox: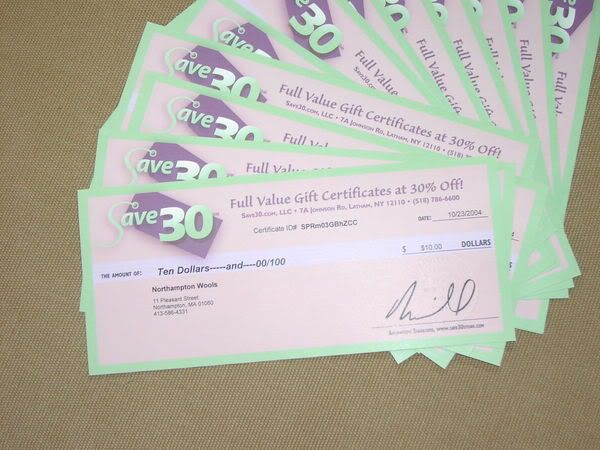 A slew of gift certificates to Northampton Wools, purchased at 30% off face value. I had called ahead to see if they had Noro Blossom, because obviously I need more yarn. No, actually, it's because I want to make Eloise.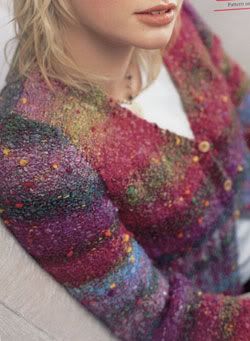 Because obviously I need more projects. Okay, whatever.
I practiced admirable restraint and refrained from going to the yarn store for THREE whole days. On Saturday, after my haircut, I had SEX. What fun. I'm used to Webs, a very different kind of yarn store.
Webs
has a huge amount of square footage, and their yarns are much, much more reasonably priced. I spent a little time browsing at Northampton Wools, and wow, there are some expensive yarns out there. I saw a hank of baby camel yarn that I think was like 25g or something, maybe 50 yards, that cost $25 each! Wow, if I had made the chemo cap with that, I would have spent $50 on it. Zowie.
But they had lots of Rowan and Debbie Bliss and Colinette, etc. Nice to browse, though the place is terribly small, dark, and cramped and, well, I didn't get a hugely warm and fuzzy feeling from the manager when I asked about ordering other colors in Blossom. I assume this is attributable to the justifiable frustration she feels about KFI, in which she is not alone, I gather.
Anyway, though the selection of Blossom colors was meager, I managed to convert most of my GCs into this: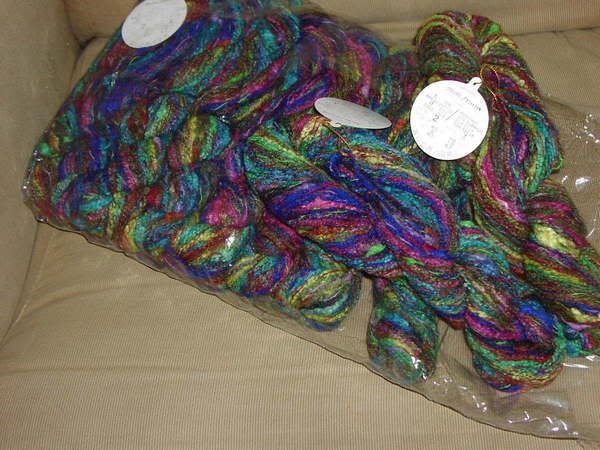 Ten skeins of Noro Blossom in color 2. I think ten will be more than I need, but this will be fun yarn to include in an oddball sweater.
I also got one ball of Rowan Calmer for the chemo cap pattern in the
Knitty Fall Surprise
issue,
Shedir
, for my SIL who is just about to lose her hair after her second chemo treatment. I had never felt this yarn before, and it's lovely. I haven't done cables in a while, and I don't know if I've ever done a pattern that was ALL single cables, but it's a big change from the mindless knitting I've been up to lately. I'm enjoying it, but I need to think about progress differently. I'm not going to be whipping out one of these every couple of days, that's for sure!
Here's my progress as of Sunday.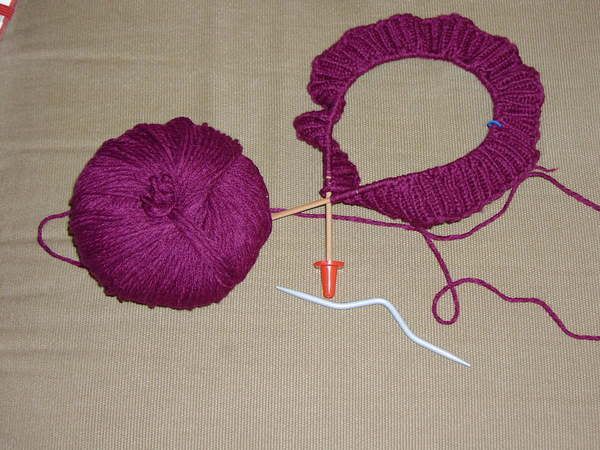 I've been working on it since this picture was taken, and I've done a full repeat of the cable pattern now. So it's coming along. I think I have another week until my MIL goes out to see her, and last time I checked, the USPS delivered as well, grin.
Nick's
is coming right along. Everything is done, including the button bands, except for picking up the neck stitches. Here it is before the button bands.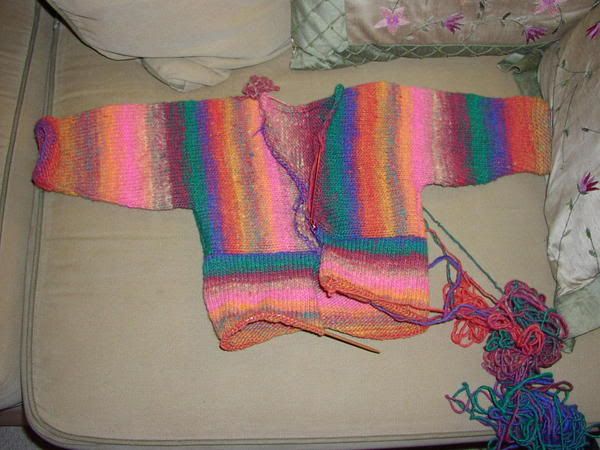 I decided to stop just after that point, because I'd really like some help from an expert on picking up the neck stitches. While I have done this many times, it never looks quite right, and I tried a few times and wasn't feeling like I was getting the right ratio of stitches. I now know not to pick up the holey spots around the neckline, but I was still having trouble. I knew I'd be going to knitting night at Webs tonight, so I just put it aside and worked on Shedir instead. I'll show it to Jill, the instructor who provides help at the knitting drop-ins, and see if she can give me some advice. It's just a few inches of a 1-inch garter band, so unless disaster strikes, that will be done tonight.
Speaking of finishing, I found the buttons for the Baby Albert cardigan. That is done, ends sewn in, buttons on, signed, sealed, and, well, not quite delivered.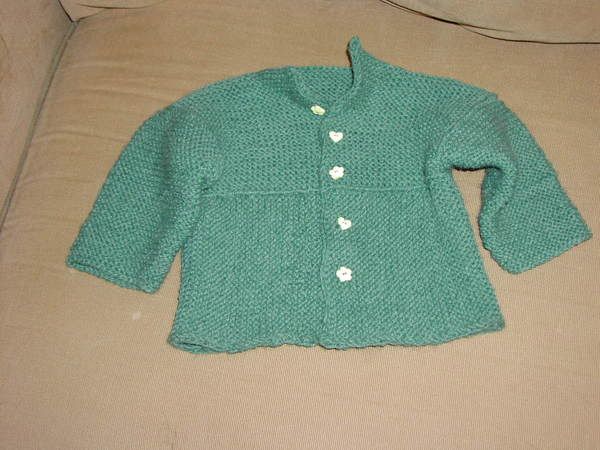 Only problem: it fits my DD, who wears a 3T. Whoops. I don't know, I seem to have a problem with gauge growing. I have decided to knit HUGE swatches, which I promise to bind off and let sit overnight from now on. Except for Shedir, for which I didn't swatch at all. Ah well. So I don't know, maybe I'll never learn. I figured, hey, it's a hat. Anyway, now I have to figure out whether to give it to the baby and let them keep it for a couple of years, or to give it to Eleanor and knit a new sweater for the baby. Just in case I need to knit a new sweater for the baby, I did get a few balls of
Karabella Aurora 8
, a lovely superwash merino worsted in a nice lavender color.

And I'm making a Really Big Swatch out of it. I swear. I might adjust
Haiku
to a 6-month size. Though at first glance the pattern sizes for 1 and 2 year-old sizes, now that I compare them to a chart of standard child sizes, seem way, way too big, which would partly explain my enormous handspun Haiku—the other explanations being a) my gauge problem and b) my handspun. Otherwise I will make some other clever side-to-side garter thingy. I will probably give the parents of the baby the option to choose. That would probably make sense.
Well, the day is almost over at work and I have done very little. I have spinning photos for the next post, but you'll just have to wait! I will also take photos of the lovely Kureyon Allison of
Six and a Half Stitches
RAOK'ed me all the way from Australia. It really cheered me up yesterday, moments after hearing of Kerry's concession.