I have been obsessed with
Shedir
, the amazing
single-cable chemo cap from Knitty's Fall Surprise.
I started last Sunday (Halloween):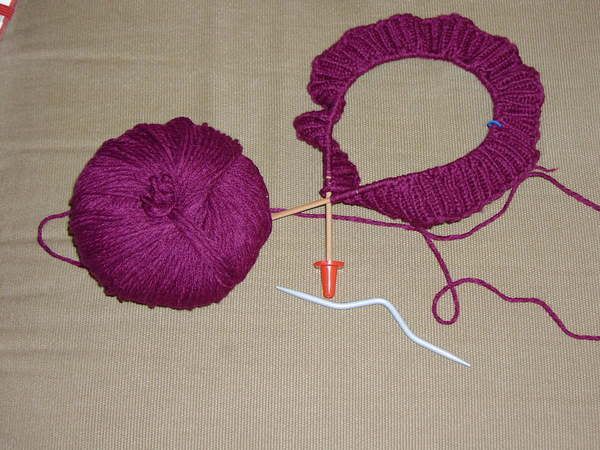 The cabling needle there was too big, so I put it down for a day or two to get a new needle on Wednesday. I got a J-shaped one, which I really like. It's much better for this small-needle single-cable business than the butterfly style ones, which flip and flop and drop out of the stitch. At least they do for me.
By this Sunday I had hit my stride and was moving along:
Tonight I'm almost done. In fact I would be finishing it right now, except...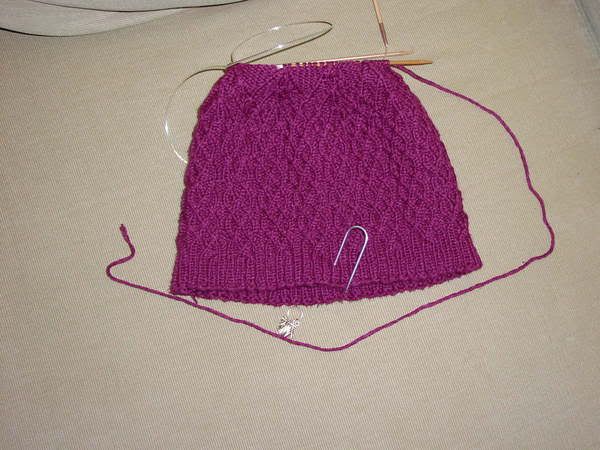 Follow that piece of yarn if you would...all the way...to the end.
The pattern is quite clear: it says to be safe, get a second ball. But I'm a rebel, I'm a wild woman. Okay, I'm a cheapskate, I mean the stuff is $10 a ball! (Though with the 30% off thing it wasn't really...) But honestly, what was I thinking? I knit everything too big lately, and I didn't even swatch for this one. Flirting with disaster, I tell you.
So I'm stalled. SIL is losing her hair and shopping for chemo caps. I have 12 more rows to go, involving rapid decreases, so we're probably talking 20 minutes of knitting. I still have fantasies of express mailing this out from work Thursday.
Crazy? You decide:
Tomorrow I am solo all day with the kids--Rhys is out of town for the day, as she is every Wednesday.
We go to our "singing meeting" at 10:30 am. This is a great free program where toddlers have a sing-along group at a local nursing home. The kids live for it.
I also have to get pink pull-ups (don't ask me how the non-gender-enforcing, cloth diapering mom wound up shopping for pink pull-ups, at times, I am chagrined to say, even at wal-mart, sigh), and I have to go to our CSA (hey, local organic farming, this is a little more in line with what I envisioned for my family) to get a winter share, which is a big one we don't want to miss. The kids really must be eating lunch by 12:30 and napping by 1. The CSA does not open until noon and getting the kids out of the house in the afternoon is like extracting impacted molars. But less worth the effort. So the big question: what time does Northampton Wools open? If I can go at 10 sharp, I can get everything done.
I suppose if I blow off the CSA (I have to skip out of work early on Friday to exercise my last chance at this winter share--don't want to miss out on 20 lbs of carrots!), we can go downtown after the "singing meeting," which has the added bonus of giving us an excuse to get lunch downtown. Why do I think lunch in public with two two-year-olds is a good idea? Slow learner, I suppose. Pull-ups will be obtained (at relatively high cost) downtown as well. Sounds like a plan.
So, can I get Shedir knitted, blocked overnight near a heat vent, wrapped in the morning, and in an express mail envelope on Thursday, while simultaneously wrangling two toddlers singlehandedly and procuring an ironically incongrous array of household merchandise? Or will the cap have to be couriered by Nana to arrive next week, my family deprived of organic, local, anti-war, democratic carrots, and my daughter--gasp--forced to wear fuzzi bunz in gender-neutral colors? Stay tuned....